Thank you for visiting our website to discover more about St Catherine Labouré Catholic School Gymea. As an educator, I am passionate about the development of the whole child and adjusting learning to meet the individual  needs of all students.
At St Catherine Labouré we are committed to working in partnership with parents and the Parish to educate our students in the Catholic faith and develop a spirit of Christian community where all belong. We provide high quality differentiated education programs and empower students to reach their potential and affirm the dignity, self esteem and integrity of each person. The social, mental and emotional wellbeing of our students is a fundamental priority for St Catherine's.
Our school is well resourced with vibrant, contemporary and digitalised learning spaces that complement our culture of innovation and support our school wide pedagogy. We offer flexible learning arrangements to support the individual needs of our students including, data-informed needs-based groups in English and inquiry-based learning across the curriculum, subject and whole grade acceleration, and intervention programs. Technology such as 3D printers, iPads, chromebooks and laptops are used as learning tools to foster innovation.
St Catherine Labouré is a part of the Sutherland Shire Network of Sydney Catholic Schools. We work collaboratively with St Patrick's College Sutherland, De La Salle College Caringbah and Our Lady of Mercy College Burraneer secondary schools to develop the skills and set the scene for a smooth transition to high school. We collaborate to inspire hope in students and to develop a positive vision for their future.
I invite you to learn more about our wonderful school by exploring our website.
Mr Patrick Morrison
Principal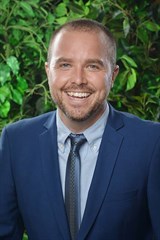 Proudly Part of the Community of Sydney Catholic Schools
Our school is part of a system of over 150 low-fee Catholic schools in the Sydney Archdiocese.
Sydney Catholic Schools are thriving Catholic communities that ignite a love of Christ through excellent teaching and learning to empower students to reach their full potential.